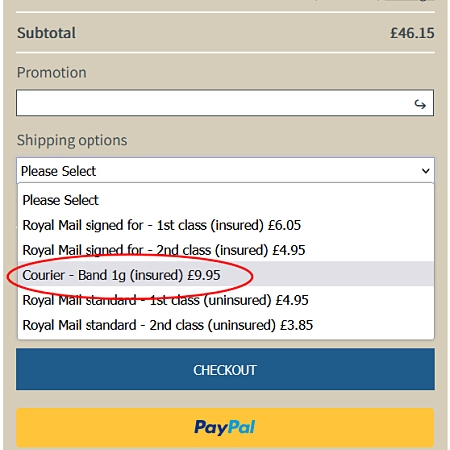 New courier shipping option to beat the postal strikes

Phil - Beaufort Ink -
5 Dec 2022 11:00:00
Other articles...
No matter where you live, you can now choose betwen delivery by Royal Mail or delivery by courier, irespective of how large or small your order.

Until now, courier shipping has been configured to only show up on our website as an option if orders that are too heavy for Royal Mail to handle. We've just changed all that, and from now on, courier shipiing is available as an option on all orders, to all countries, no matter how large or small the order - and we'll be keeping it in place going forward, so that our customers will always have the choice.
Yes, delivery by courier is going to cost a bit more than Royal Mail, but if you want your goods in a hurry, or you're worried that planned postal strikes will slow things down, then choose our new courier option in the shopping cart.
Courier deliveries within the UK are handled by DHL and are usually within 1 to 2 working days. Courier deliveries to other countries are handled by either DHL or FedEX and are usually within 4 to 6 days working days or so.
We've made the option available, but it goes without saying that it's entirely your choice which shipping method you select. Please bear in mind however, that postal strikes are planned for every single week between now and Christmas.
Courier shipping is now available as an option on every order
Latest articles. Scroll down for more
✖
Sign up here, and we'll tell you when we add a new article to our blog
Sorry, that was unsuccessful - please try again
Thanks for subscribing to our mailing list