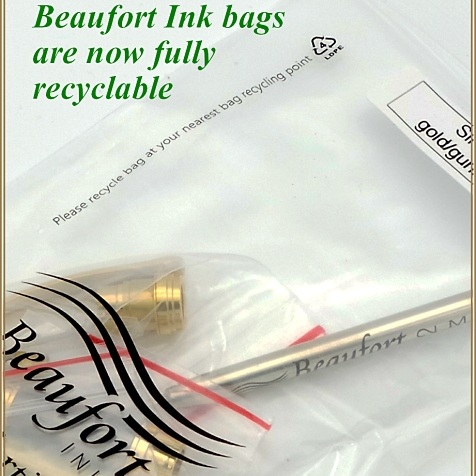 Our pen kit bags are now recyclable

Phil - Beaufort Ink -
18 Sep 2019 22:00:00
Other articles...
What can we do about all those annoying little plastic bags we send out in their hundreds and thousands each week that contain the parts of our pen kits? We've been puzzling our little minds with this dilemma for some time. We're very aware that most of our pen kit bags probably end up in the bin, and consequently in landfill (or worse) and you'd have to live on a different planet not to realise the harm they cause to our own planet.
So...
Firstly, we tested paper bags. Hmmm - not a great success for two reasons. In fact for three reasons. One - they're not particularly strong or long lived, so when stored in a customer's (possibly dampish) workshop, the pen kits may not stay as pristine as they should do, or even stay in tact. Two - they are not easily sealable, or more importantly, not easily re-sealable, which means that if you open the bag to remove the pen kit tubes for example, the rest of the pen kit could easily end up being "distributed" among the sawdust and shavings. And the third reason? You can't see what's inside them, unless the bag has a window, so you can't actually see the pen kit itself. The window would need to be made from, well, some form of plastic, which in many corners of the world would render the paper part non-recyclable.
So then we looked at bio-degradable plastic bags. Let's just say they have a long way to go before they reach maturity, and they don't necessarily need the bio part before they begin to degrade.
What about cardboard boxes? Not actually too bad an option, but to a lesser extent they still suffer from some of the same problems as paper bags, and they are bulky to ship. They are also relatively expensive, so somewhere along the chain of costs, someone has to pay for them, which could easily mean price increases.
Tins? Yes, we went there too. Returnable bags? We went there as well, and in fact a few of our customers do already return their bags, but with the best will in the world most people wouldn't. In any case it would be impractical to do so from anywhere other than the UK, so our many, many international customers wouldn't be able to participate.
So in the end we came to the conclusion that the best solution is the one we already had - plastic bags. They are strong, re-sealable, see through, damp proof, cost effective, easy to store, easy to package up and ship, and are frankly the best tool for the job.
Except that now all our pen kit bags are fully recyclable, and we'll be rolling them out over the coming weeks and months as we replenish our pen kit stocks.
We continue to lead the way in fresh thinking in the UK pen kit market and custom pen market, and by now we are very used to others attempting to copy our ideas and innovations. However, this is actually one idea we hope they will copy, and frankly, shame on them if they don't. But along with many of the things that are now taken for granted in the UK pen kit market, do remember you saw it here first.
Beaufort Ink pen kit bags are now fully recyclable
Latest articles. Scroll down for more