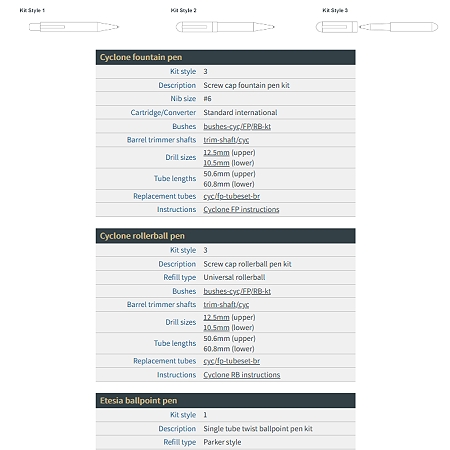 Pen kit bushes, drills and tubes compatibility tables

Phil - Beaufort Ink -
19 Aug 2022 10:00:00
Other articles...
New pen kit look-up tables.
It's been a shockingly long time since we wrote anything on our blog. We know that our articles are well read, so you might even say we've been neglectful. It isn't neglect though I assure you - it's more that we've just been, well, very busy.
It's high time then that we put that right, so firstly I'm going to tell you about some of the things that have been keeping us busy in that time, and then I'm going to tell you about one thing in particular, which we reckon our pen kit making customers will find pretty useful.
I've just double checked, and the last thing we posted on our blog was in November last year! Since then, to list just some of the new products we've added to our website in the meantime, we've introduced new colours to our ever popular Semplicita range of pen blanks, we've introduced non-engraved fountain pen nibs from Bock in sizes 5, 6 and 8, colour-shift pen blanks from DiamondCast, hand made leather pen pouches and sleeves from Jermyn Street Leather, barrel trimmer heads and barrel trimmer shafts for all our pen kits, new pen boxes to augment our already impressive range of boxes, ring blanks from DiamondCast, all manner of wood pen blanks including whiskey cask blanks from the Bushmills Distillery in Ireland, dedicated pen blank jaws for our Versachuck wood lathe chuck, top of the range vernier calipers from Mitutoyo, Starbond CA superglue in 16oz bottles to add to the 1oz and 2oz bottles we already have, expanding collets from Beall (really handy if you make pepper mills, but they have loads of other uses too)........
The list goes on.
Oh, and not forgetting, no less than 4 new pen kits - the Cyclone, the Etesia, the Headwind and the Solano. (Watch this space for more pen kits coming soon).
We've raised £1400 for the DEC Ukraine Humanitarian appeal fund through the generosity of our wonderful customers, we've taken on an additional pair of hands because the number of pairs we had before just wasn't enough, we've taken on additional storage because (yes, you guessed it) the space we had before wasn't enough either, we did sun dances in May and we did rain dances in August (sadly no video footage of either, sorry).
But here's the thing, in fact THE thing I wanted to tell you about before I started rambling.
These days, we've got a lot more pen kits than we ever used to have. We design them all ourselves, and actually we are the ONLY people in the UK who do that, despite what others would like you to believe. And because we design them ourselves, we can please ourselves with regard to, well, everything really, but here specifically, I'm talking about tube sizes - which then impacts on drill sizes, size of bushes, barrel trimmers and so on.
Many of our pen kits share the same tubes, or at least the same tube diameter, if not the length. Many share the same drill bits, the same bushes and so on. You get the picture. And that's a conscious decision on our part, so that our customers don't necessarily have to shell out on all the bits every time they try a new Beaufort Ink pen kit. But unless you know what hardware is compatible with which kits, you either do your homework to find out, or the danger is that you end up buying all the bits again.
So, in an effort to make things as clear and as obvious as possible, we've compiled a table of all our pen kits, that firstly lists each kit next to its drill sizes, bushes, barrel trimmer shafts, spare tubes and instructions, (with a link to the right part, and the right instructions), and secondly, sets out compatibility for bushes, drill bits, barrel trimmer shafts and spare tubes in clearly laid out tables.
No more unknowns. No more buying bits of hardware that you already own.
We think our new look-up tables are going to be pretty useful, or at least we hope they will be, and of course, we'll update it as we introduce new kits to our range. Please feel free to get in touch if you have any comments (good or bad) - it's customer feedback that keeps us on our toes.
Here's a link to them, or you can find them in "Instructions & Resources" from the top menu on every page on our website.
Pen Kits at a Glance - (look-up tables for bushes, drill sizes, tubes & barrel trimmers)
And I promise that we won't leave it so long before the next post - we have a lot of news and things to say.
Pen kits at a glance - (look-up tables for bushes, drill sizes, tubes & barrel trimmers)
Latest articles. Scroll down for more
✖
Sign up here, and we'll tell you when we add a new article to our blog
Sorry, that was unsuccessful - please try again
Thanks for subscribing to our mailing list