Lathe Spindle Thread Look-Up Table
Use the table below to quickly look up the spindle thread of your lathe.
Versachuck wood lathe chucks require a backplate that is compatible with your spindle thread - the product code you need is listed next to each thread size.
Versachuck backplates conform to the ISO standard Pratt Burnerd 4" system, and therefore, as well as our own Vesachuck bodies, they are compatible with many other chuck bodies, particularly engineering chucks and older Axminster chucks. The drawing below shows essential sizes for compatibility.
We have alphabetically listed every woodturning lathe we can think of (although there are probably a few we've missed), which we have produced in good faith and which to the best of our knowledge is correct at the time of writing. However, lathe manufacturers reserve the right to alter the specifications of their lathes, so please do double-check your lathe spindle size for yourself, as we cannot be held responsible for any errors or omissions.
(And if you do spot any errors or omissions, please feel free to get in touch to let us know)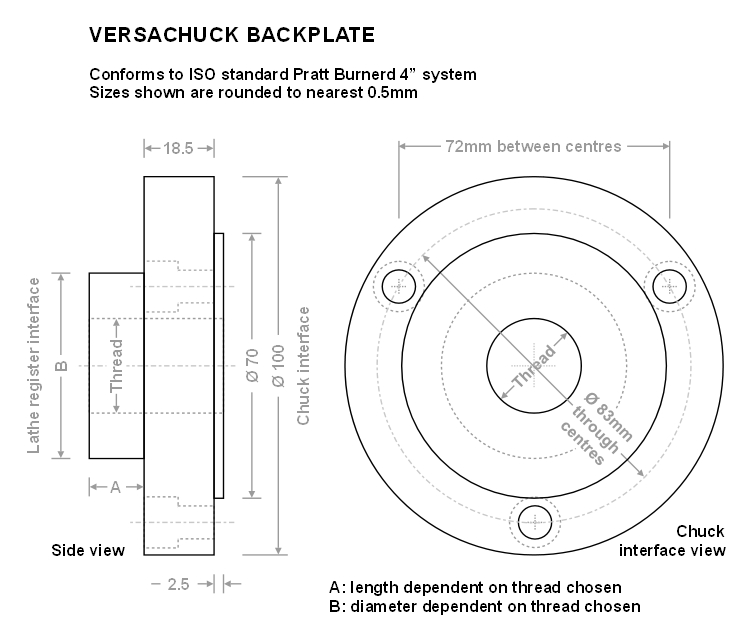 Lathe
Spindle thread size
Versachuck backplate
product code
APTC KWL37
3/4 x 16 tpi
vc-bp3416
Apollo Professional
1 1/2 x 6 tpi dual L/R thread
vc-bp112lr
Apollo (except Professional)
M25 x 2
vc-bpm25
Arundel
1 x 10 tpi
vc-bp110
Axminster craft / hobby series
1 x 8tpi
vc-bp18
Axminster trade series
M33 x 3.5
vc-bpm33
Carbatech
3/4 x 16tpi
vc-bp3416
Charnwood
M33 x 3.5
vc-bpm33
Clarke
3/4 x 16 tpi
vc-bp3416
Coronet (not red Major)
3/4 x 16tpi
vc-bp3416
Cotech
M25 x 2
vc-bpm25
Delta
1 x 8 tpi
vc-bp18
Draper
3/4 x 16 tpi
vc-bp3416
Durden
1 x 10 tpi
vc-bp110
Emco
M33 x 3.5
vc-bpm33
Flott
M33 x 3.5
vc-bpm33
General
1 1/4 x 8 tpi
vc-bp114
Grizzly (but check - it could be any of 3 sizes)
3/4 x 16 tpi
vc-bp3416
Grizzly (but check - it could be any of 3 sizes)
1 1/4 x 8 tpi
vc-bp114
Grizzly (but check - it could be any of 3 sizes)
1 x 8 tpi
vc-bp18
Habegger
M38 x 3
vc-bpsn38
Hager
M33 x 3.5
vc-bpm33
Harrison graduate
1 1/2 x 6 tpi dual L/R thread
vc-bp112lr
Harrison Jubilee (inboard)
1 x 10 tpi
vc-bp110
Hegner
M33 x 3.5
vc-bpm33
Jet (older models & US market)
1 x 8 tpi
vc-bp18
Jet (newer models - UK market)
M33 x 3.5
vc-bpm33
Killinger
M33 x 3.5
vc-bpm33
Klein
3/4 x 16tpi
vc-bp3416
Laguna
M33 x 3.5
vc-bpm33
Magma - Black Line & FU series
M33 x 3.5
vc-bpm33
Mejix
M20 x 1
vc-bp58 - 5/8 pilot bore
Myford Mystro & ML7
1 1/8 x 12 tpi
vc-bp118
Myford ML8 (inboard)
1 x 12 tpi
vc-bp1x12
Nova 1624 II
M33 x 3.5
vc-bpm33
Nova comet
1 x 8 tpi
vc-bp18
Nova Galaxi
M33 x 3.5
vc-bpm33
Nova Saturn
M33 x 3.5
vc-bpm33
Nova (uk market - older models)
1 1/4 x 8 tpi Nova
vc-bp114nova
Nova (US market)
1 1/4 x 8 tpi
vc-bp114
Nu-Tool
3/4 x 16tpi
vc-bp3416
Oneway 1224 & 1236D inboard
1 x 8 tpi
vc-bp18
Oneway 1224 outboard
3/4 x 16tpi
vc-bp3416
Oneway 1640 & 2000
M33 x 3.5
vc-bpm33
Perform
1 x 8 tpi
vc-bp18
Poolewood - earlier PW28-40 with enlarged rear regsiter
1 1/2 x 6 tpi Poolewood
vc-bp112pw
Powermatic
M33 x 3.5
vc-bpm33
Record 2017 and later - but check!
M33 x 3.5
vc-bpm33
Record prior to 2017 - but check!
3/4 x 16tpi
vc-bp3416
Rexxon
3/4 x 16tpi
vc-bp3416
Sorby (but check - it could be any of 3 sizes)
1 x 8 tpi
vc-bp18
Sorby (but check - it could be any of 3 sizes)
M33 x 3.5
vc-bpm33
Sorby (but check - it could be any of 3 sizes)
M25 x 2
vc-bpm25
Steinert
M33 x 3.5
vc-bpm33
Scheppach (some models)
1 x 8 tpi
vc-bp18
Scheppach (some models)
M33 x 3.5
vc-bpm33
Sears Roebuck
3/4 x 16tpi
vc-bp3416
Sealey
3/4 x 16tpi
vc-bp3416
Selbix Springwood
M25 x 2
vc-bpm25
SIP
3/4 x 16tpi
vc-bp3416
Supernova Bush
M38 x 3
vc-bpsn38
Tanner SD165
M25 x 2
vc-bpm25
Tyme Avon (1983 onwards)
M25 x 2
vc-bpm25
Tyme Classic
M25 x 2
vc-bpm25
Tyme Cub
M20 x 2
vc-bp58 - 5/8 pilot bore
Wivamac
M33 x 3.5
vc-bpm33
Wivamac (US models)
1 x 8 tpi
vc-bp18
VB36
VB36 bayonet mount
vc-bpvb36
Vicmarc - most models (not US)
M33 x 3.5 (short version)
vc-bpm33vm
Vicmarc - (US models)
1 1/4 x 8 tpi
vc-bp114
Woodfast (US market)
1 1/4 x 8 tpi
vc-bp114
Zebrano
M33 x 3.5
vc-bpm33
E&OE