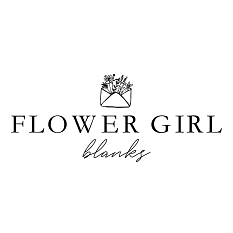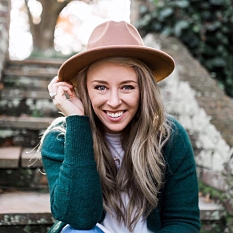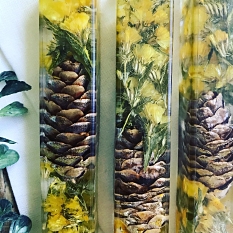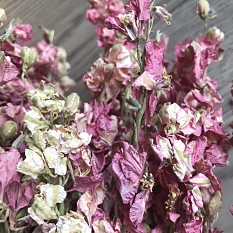 Flower Girl Acrylic Pen Blanks
Flower Girl pen blanks are made by the talented Kayla Cooper, who lives and works in the southern state of Tennessee, in the USA.
Here's Kayla in her own words:
"When I started turning, I longed for pen blanks that represented my wildflower personality. After a lot of convincing from fellow turners, I finally bit the bullet and dove head first into the blank making world, and I absolutely love it! Making flower blanks has given me a creative freedom that I haven't experience yet in woodworking alone. As my blank business began to grow, people started referring to me as 'the flower girl', which blossomed the name Flower Girl Blanks!"

Flower Girl pen blanks are made using dried flowers and other flora which are cast under pressure in Alumilite resin. The nature of flowers, seed heads, cones etc is that they might sometimes conceal the occasional void which the resin has been unable to reach. Blank preparation and the turning itself may differ a little from your usual procedure for other blanks, and it is therefore important that you familiarise yourself with the instructions that Kayla has provided.
Instructions for the preparation and turning of Flower Girl pen blanks.
Preparation
Cut and drill the blank according to your pen kit or project kit
The resin is crystal clear, so to eliminate the possibility of any swarf or drilling dust showing through in the finished piece, swab out the drill holes with denatured alcohol (methylated spirits) using a Q-tip
Before painting the inside of the holes, saturate a Q-tip with CA and swab the holes. This will eliminate the possibility of any of the cast flowers etc from taking up the paint
Once the CA is completely cured, paint the inside of the holes and allow to dry. Use a colour to set off the flowers inside the blank to their best effect.- white is often most effective, but black or any other colour of your choice are also worth considering. Two coats of paint will be better than one, but allow each coat to dry thoroughly before proceeding to the next stage.
Prepare the tubes using your usual method and glue them in. Kayla herself uses two-part epoxy which she first mixes with paint or with mica powder to match the paint on the inside of the tubes.

Turning
The resin itself shouldl not have air bubbles in it, since it is carefully cast under pressure in order to eliminate them. However, the flowers themselves may sometimes conceal the occasional small hidden void which the resin has been unable to reach, such as inside a seed pod for instance. If you come across a void whilst turning, it is not a faulty blank and the void can easily be filled by carefully applying a small amount of CA