BEAUFORT MISTRAL FP & RB Pen Kit Accent bushes - Instructions

Download a printable PDF version of these cabochon instructions HERE
Our unique Accent Bushes help you to make accents for Beaufort Mistral kits from any suitable material of your choice, to either match, contrast or compliment the material of your pen barrels.
| | | |
| --- | --- | --- |
| | | |
| | Accent material | |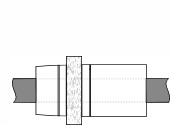 ACCENT RING - Fountain pen kit & rollerball pen kit
Prepare a blank at least 16mm round (or square) and drilled to 11.1 mm or 7/16 (11.11mm)
Sand both faces to a fine, flat surface, ensuring they remain parallel to each other and at right angles to the hole through the middle. The assembled kit will tolerate a ring width of between 3mm and 6mm, but the exact width is not criical. (As a reference, the ring supplied with the kit is 3.27mm)
Mount the blank on bush A, then insert bush A into bush B. The assembly can be either mounted on a mandrel, or the 60 degree cone inserts will allow you to turn between centres.
Turn the blank using the contour of the bushes as a guide. Sand and finish according to your usual working methods and preferences.
Your new accent ring can now be mounted on the kit's centre band in place of the supplied accent ring. No glue is required.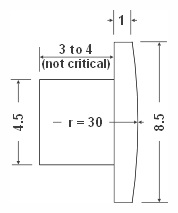 ACCENT CABOCHON - Fountain pen kit & rollerball kit
Bushes are not required to make your own accent cabochon
Mount your blank of sufficient diameter in a chuck. (The finished diameter will be 8.5mm)
With the tool of your choice, shape the end face to a contour of your preference. Make a template with a radius of 30mm if you wish to copy the contour of the cabochon supplied with the kit.
Sand the end face according to your your usual working method.
Turn and sand the diameter to a finished size of 8.5mm.
Apply a finish to the end face according to your preference.
Measure and mark a distance of 1mm from the edge of the end face, then part down to 4.5mm over a length of roughly 3 to 4mm (this distance is not critical).
Your new cabochon can now be parted off from the remainder of the blank. We suggest you save fitting it to the cap finial until last. A spot of glue will probably be required to hold it in place - the supplied cabochon is a compression fit, but your new one is not.
If your accent material is translucent, you may want to consider painting the underside / inside of the finished accents, to prevent the kit components from showing through.