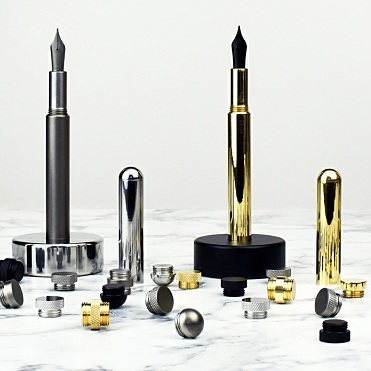 A great new concept in fountain pens - The Lethaby Ion is going places

Phil - Beaufort Ink -
8 Apr 2020 18:00:00
Other articles...
It's always rewarding to work with up and coming professional pen makers, several of whom go on to the giddy heights of commercial production. And so it is with the totally affable and multi talented Charles Lethaby, who is already well known in certain circles for his unique ranges of electric lighting, which take centre stage in many a posh hotel, designer shop and exclusive home throughout the land, and far beyond.
Charles has now also applied his creative mind to fountain pens, and come up with what is possibly a unique concept, which he calls the Lethaby Ion.
Remember Swatch watches? You know, those watches that if you wanted it to look different, you could change the bezel, or the strap, or the hands, or whatever it was that took your fancy? Well, that's the general idea with the Lethaby Ion too.
Choose your colour - currently there's stainless steel, anodised black aluminium, titanium or brass.
Do you want flat finials or rounded finials? Or maybe a rounded one on the cap and a flat one on the barrel?
Do you want to be able to post the cap? Just choose a finial for the barrel that has a thread for posting. Not bothered about posting the cap? OK, forget about the thread then, and get a plain one (well, maybe plain, or maybe one with a bit of decoration on it).
But hang on, you'd quite like the section to contrast with the main body and cap of the pen, you say? Guess what? No problem, and the same goes for all the other parts too - match or contrast. Entirely your choice.
Are you beginning to get the picture?
Is this just a marketing gimmick? Well it certainly could be seen as that if it weren't for the fact that the Ion is a lovely fountain pen to hold, to write with and to look at, and the build quality is outstanding. This is not a tacky, cheap and nasty fountain pen, it's a quality writing instrument worthy of the Lethaby brand, one of which Charles kindly sent us just as he launched the new creation on Kickstarter back in February.
The fountain pen we received was an aluminium one, which has seen plenty of action in the office ever since. Ions are all fitted with size 6 Bock nibs, and it goes without saying that you get a choice of colour and point width there too. If you want a bit more heft in your pen though, you could go for a brass one, which although we don't know the weight, would definitely suit anyone who prefers a heavier pen than steel or aluminium. Or for a super sexy look, you could go for a titanium pen with a titanium nib.
And if you feel like experimenting with nibs in the future, well, we hope that by now, you know where to come for those - any of the Bock size 6 nibs on our website will screw straight into an Ion as a direct replacement.
Do hop over and check out the Lethaby website though, where you can customise your own pen or just opt for one of the many pre-selected models that are on show there - and no, the prices are not outrageous, in fact they start from £69 at the time of writing. And we haven't even mentioned the desk stand yet, but you can find out about that for yourself when you visit the Lethaby website.

http://www.charleslethabylighting.com/writing-instruments
Lethaby Ion fountain pens are fitted with size 6 Bock nibs and are available in a large choice of customisable options
Latest articles. Scroll down for more