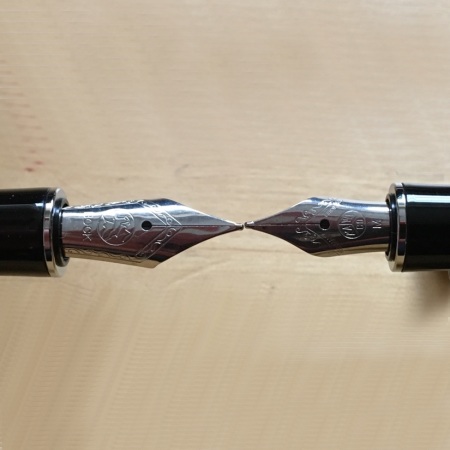 Phil - Beaufort Ink -
25 Sep 2019 08:00:00
Full article...
Who knew you could fit a larger nib in a Kaweco? Most Kaweco fountain pens are supplied with a short nib - a Bock type 060 in fact, which on the Dia2 looks, well, just wrong. (Sorry Kaweco) The good thing about the Dia2 though, in common with a lot of their other marques, is that the nib is in a standard Bock size 5 housing, which means that you can screw in a different Bock nib as a direct replacement. In any instance where you want to fit a bigger nib, you have to be sure that there is ...

Phil -
16 Jan 2019 10:00:00
Full article...
Made specially for us in Italy, these single, high density colour, acrylic pen blanks are available in 150mm and 200mm lengths. Easy to turn, these pen blanks finish and polish to a high shine, and are excellent for threading too. Ideal for pen kits, kitless pens and custom pen makers, we have them on our website in 5 different solid colours Jet black Purepurple Cadmium dark red Midnightblue Racing green We're pretty sure we'll be commissioning more colours pretty ...

Phil -
4 Aug 2018 15:00:00
Full article...
The accent components for Mistral pen kits are currently available in a choice of 5 different platings. They consist of a ring for the centre band and a cabochon for the cap finial, and are supplied in a small bag with the kit itself. Supplying them unfitted allows us to offer Mistral pen kits in no less than 15 different colour combinations. Fitting the centre band accent ring is very straight forward and is dealt with in the instructions for the kit, which are downloadable from our main ...

Phil -
25 Apr 2018 11:00:00
Full article...
Our thanks to John Clothier for allowing us to share his recent video on the Beaufort Mistral. John very clearly explains the Mistral fountain pen kit, part by part, and after turning the barrels from his own hybrid cast blanks he then goes on to demonstrate the correct procedure for assembling the components in the pen press. And what a lovely pen he makes too. You can see Mistral pens kits on our website here: But do have a look at John's video too – it's well ...

Phil -
20 Jan 2017 10:00:00
Full article...
The boss is a pen maker, and he is frequently asked what finishes he recommends for our pen kits, the answer to which will of course depend on what the pen is being made from in the first place. However, in his opinion, as far as wood is concerned you are never going to achieve a good, strong, lasting finish from wax products alone, and CA, which was never intended as a finish, simply serves to encase the wood in a plastic shell, thereby losing touch with the wood itself. It's a ...

Phil -
4 Jul 2016 10:00:00
Full article...
Our latest extravagant indulgence has arrived at last, a Baoer 388 for which we had to splash out a massive £1.97 – delivered. Rediculous!! And what a great little pen it is – we can't fault its appearance, balance, feel in the hand and so on, but the nib is truly horrible. Nothing wrong with its looks – well, we could live with it anyway, considering what we paid for it. Nothing wrong with the ink flow either, but scratchy? Scratchy is not the ...

Phil -
14 Mar 2016 23:00:00
Full article...
We frequently get requests for advice regarding the correct proceedure for making fountain pen sections for Bock nib housings, particularly regarding size 5 nibs, which appear to give more trouble than the size 6 ones. Standard practice when establishing the correct drill size for thread taps is to subtract the pitch from the diameter. In the case of a Bock size 5 housing, that would work out as 6.4 – 0.6 = 5.8However, the very bottom of the housing has a tiny non-threaded area ...

Phil -
24 Feb 2016 09:00:00
Full article...
Our Bock size 6 nibs are a perfect fit if you want to upgrade the nib in the ever popular Kaigelu 316 fountain pen The existing nib and housing can pretty easily be knocked out. Although the Kaigelu 316 has a threaded Section, the housing is not threaded and is lightly glued in place. A Bock size 6 nib in a Bock housing can then be fitted in its place, which again does not interact with the pen's Section thread, but is an excellent push fit with no glue required. You will also need to ...

Phil -
13 Sep 2015 11:00:00
Full article...
A problem with polyurethane (Pu) Gorilla Glue that is experienced by some, is that the inserted pen tubes move whilst the glue cures. Tubes only move with Gorilla glue if you haven't coated them properly. Gorilla expands, so if you have an uneven covering it will push the tube in the direction of least resistance, which is generally away from the area with least glue. To stop it happening, follow this routine. The tube will never move, you don't need to check it, and you ...
Latest articles. Scroll down for more