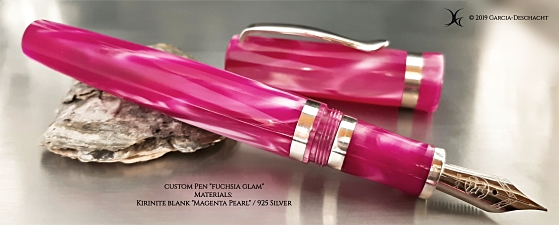 My word - what talented customers we have!

Phil - Beaufort Ink -
18 Oct 2019 09:00:00
Other articles...
Take a look at Garcia-Deschacht and the amazing handmade fountain pens they produce.
We've been working with Laura and Andy since the start of their journey, supplying them with tooling, fountain pen nibs, pen blanks, ink converters etc. We came across an interview the other day, which we thought you may like to read too - what absolutely beautiful pens they produce (and not a bad showcase for some of our products either, it has to be said).
Without a doubt, one of a kind, handcrafted, unique writing instruments.
So, if you are in the market for a custom made fountain pen, then get in touch with these guys. They really are up there with the best of them.
What a privilege to work with Laura and Andy! We're extremely proud to support Garcia - Deschacht, as we are to support many other custom pen makers, and commercial pen makers too.
Handmade fountain pen by Garcia-Deschacht
in Kirinite Magenta Pearl, with a Bock size 6 nib
Do have a read of their story and see what passion and creativity they both have.
Gacia-Deschacht - A Synphony in wood
If you want to explore the possibility of buying one of their fountain pens, then make sure you check out Garcia-Deschacht's website as well
www.garcia-deschacht.com
Latest articles. Scroll down for more