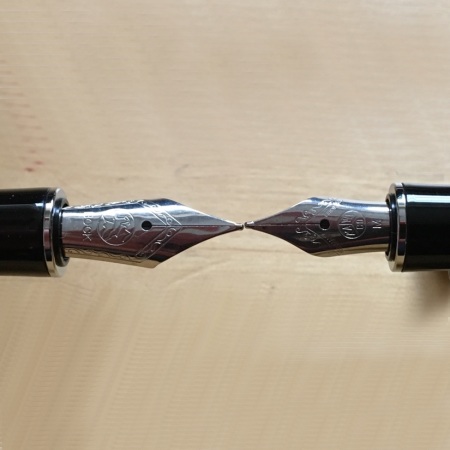 Upgrading the nib in a Kaweco Dia2 fountain pen

Phil - Beaufort Ink -
25 Sep 2019 08:00:00
Other articles...
Who knew you could fit a larger nib in a Kaweco? Most Kaweco fountain pens are supplied with a short nib - a Bock type 060 in fact, which on the Dia2 looks, well, just wrong.
(Sorry Kaweco)
The good thing about the Dia2 though, in common with a lot of their other marques, is that the nib is in a standard Bock size 5 housing, which means that you can screw in a different Bock nib as a direct replacement. In any instance where you want to fit a bigger nib, you have to be sure that there is room inside the cap to take it, but it so happens that Kaweco have left plenty of room inside the cap of the Dia2.
The replacement nib still needs to be a size 5 - you can't fit a size 6 nib in a pen that isn't designed to take it, but it means that the Dia2 will happily take a Bock type 180 nib, and better still, a Bock type 076 nib, which is Bocks wide shoulder version of their standard size 5.
Both the 180 and the 076 are longer than the 060, and in particular the 076, when fitted to a Dia2, frankly looks the bees knees.
A Bock 076 fountain pen nib in a Kaweco Dia2 (left), compared to the original nib supplied with the pen (right)
Don't just take our word for it though - we were made aware by the author of his review of exactly the process described above. He's extremely pleased with the outcome, and his short blog post is well worth a read.
https://theindianmarmaladecompany.com/2019/09/24/kaweco-dia2-nib-swap/

Latest articles. Scroll down for more