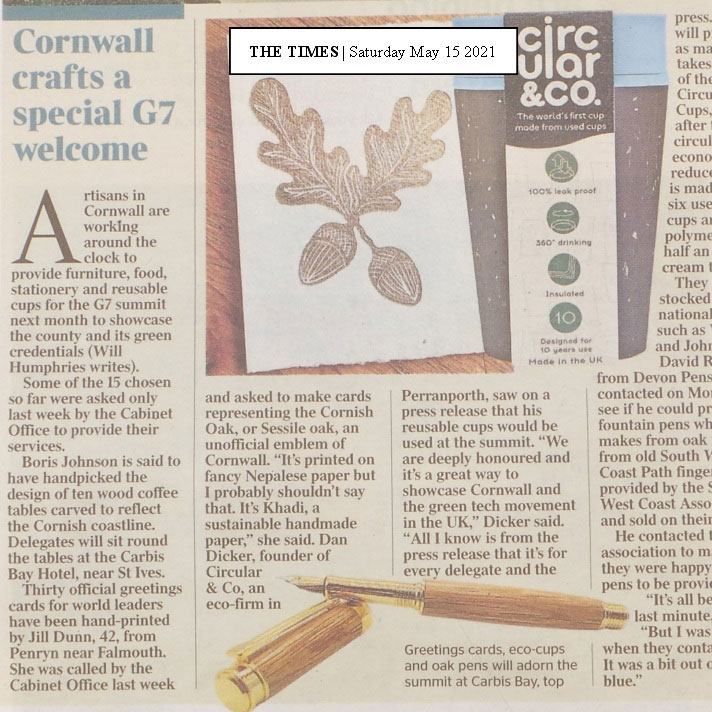 Beaufort Ink at the G7 Summit. How cool is that?

Phil - Beaufort Ink -
25 May 2021 19:00:00
Other articles...
Pen turning is a popular hobby amongst many, and a legitimate means of earning or supplementing a living for others. It has now found its way onto no lesser platform than the world political stage, and you know you've arrived when it's you who's been asked to make the pens.
As part of the program to involve local and regional artisans to provide a range of products for the G7 Summit, from the chairs they'll be sitting on, to the coffee they'll be drinking, David Ratcliffe of Devon Pens, who is a good customer of ours and a talented, professional pen maker, has been honoured with a commission to make fountain pens for the world's political leaders at the G7 top table in June this year.
Just how exciting is that? Commissions don't come with a much higher profile, and David tells me he is being enticed daily to give interviews for the likes of The Times, BBC and ITV news, and most recently, Channel 5 who apparently also want a piece of the action.
Needless to say, we are absolutely delighted for him, and we're also thrilled, it must be said, that he's chosen to use our Leveche fountain pen kits from which to make them, which he's upgrading with Bock nibs, also supplied by us.
I prepared and tuned the nibs myself the other day before we sent them to David, along with the components he needs for his fountain pens, and I couldn't help wondering which one would be for Boris, which one for Angela, which one for Joe and so on. If only I could have put some kind of Harry Potters spell on them so that they only write the truth (Oops - did I say that out loud?)
David derives a large part of his living from turning pens, and mainly uses woods of local and/or historical interest to make them from. He sells them through his own website, through visitor centres associated with the woods he uses, and at various shows he attends throughout the year. He has already seen a sharp upturn in business as a result of press coverage that has so far been published, and I think it's fair to say that he's still not climbed down from a state of elation after receiving the news a couple of weeks ago.
The fountain pens for the G7 summit are being made made using oak that has been reclaimed from dis-used finger boards on the South West Costal Path (the direction markers used on the long-distance path around the coastline of Cornwall and Devon) for which David of course first obtained permission to use. And as I've already mentioned, but I have very little shame so I'll mention it again, he's putting the turned oak on Leveche pen kits that he's fitting with Bock nibs, both elements supplied by Beaufort Ink.
Our congratulations go to David on gaining such a prestigious commission, which is a great showcase not only for his own skills and professionalism, but also for the craft of pen turning.
If you'd like to see more of David's work, you can visit his website here: https://www.devonpens.co.uk/
If you'd like to get hold of some pen kits that are fit for the world's political leaders, you can find them here: https://www.beaufortink.co.uk/pen-kits/leveche-pen-kits
And if you'd like a Bock fountain pen nib that nearly always writes the truth, they're here: https://www.beaufortink.co.uk/bock-fountain-pen-nibs
Phil Dart
May 2021
Latest articles. Scroll down for more