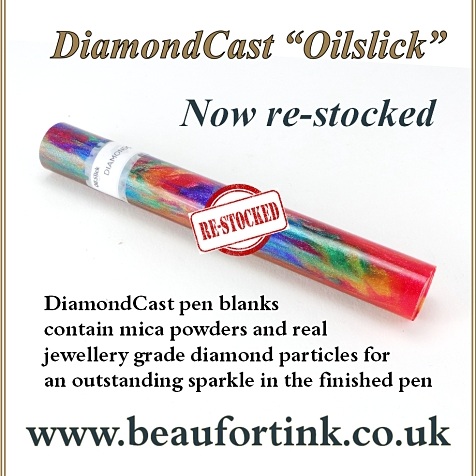 DiamondCast pen blanks now fully re-stocked

Phil - Beaufort Ink -
4 Feb 2020 10:00:00
Other articles...
DiamondCast pen blanks tend to fly out of our door pretty quickly.
Why are they so popular?
Well, if you've never come across them before, you won't know that DiamondCast pen blanks are made from polyurethane, and coloured using iridescent mica powders, which produce a wonderful chatoyance inside the resin. Not only that, the major point about them is that they contain jewellery grade, real diamond particles, which result in an absolutely outstanding sparkle in the finished pen.
If you've tried them already, you'll know what we mean. You'll also know that they're incredibly easy to turn, they polish up to a beautiful shine, and that they have no more blunting effect on cutting tools than any other acrylic pen blank.
What you might not have realised though, is that not only do they look amazing on pens made from pen kits, but that they are ideal for threading. They take and hold a thread superbly, and are therefore absolutely ideal for custom pens, or so called kitless pens.
So, if you haven't tried them before, now's your chance. We are the exclusive UK distributor of DiamondCast pen blanks, and we have no less than 17 colourways in stock. Each colourway is available in both 150mm and 235mm lengths, including the incredible looking and ever popular DiamondCast "Oilslick"
www.beaufortink.co.uk/pen-blanks
DiamondCast pen blanks are now fully re-stocked.
Latest articles. Scroll down for more