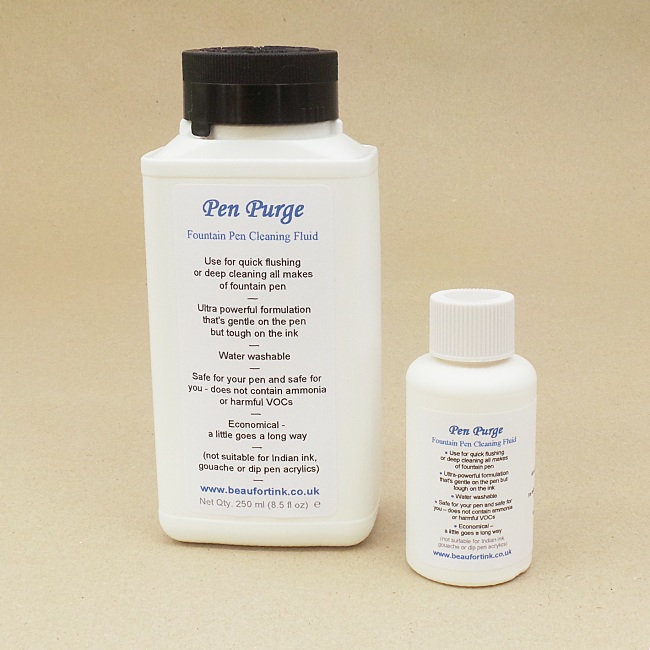 Finally, a fountain pen cleaning fluid that does not contain ammonia

Phil - Beaufort Ink -
10 Oct 2023 18:00:00
Other articles...
Most fountain pen cleaning fluids contain a chemical called ammonia. Ours does not, and yet it's a powerful formulation that will deep-clean the most neglected, crusted and dried out of fountain pens.
You might not think the fact that it doesn't contain ammonia is anything special - in fact you might think that without ammonia it can't be very good. There is a chance too that you might not know what the heck I'm talking about, so let me explain.
Most, if not all other fountain pen cleaning fluids contain ammonia, and the recipe to make it is pretty simple and straight forward - in fact there are recipes available on the internet. Essentially it's liquid ammonia mixed with water, with the addition of a tiny bit of detergent.
Ammonia is pretty nasty stuff. It's corrosive and it's smelly, and given a choice I'm not sure I'd want it anywhere near my prized and precious fountain pen or anywhere near my eyes, nose, or lungs.
Although it's easily dissolved in water, ammonia is actually a naturally occurring gas. Think of the farmers field that has just been sprayed with slurry, which has come more or less straight from the rear end of a cow. That stink is ammonia.
It is a major constituent in explosives, and if you're going to inflict mass carnage and destruction on your fellow man on a global scale, and sustain it over a period of years, you need a lot of ammonia. As it so happened, the method of artificially synthesising ammonia was discovered, perfected and patented shortly before the First World War, which although on the face of it was originally intended to help the agricultural industry, instead enabled both sides to annihilate the sons of the other side without interruption and without fear of running out of the stuff. Since then, commercial production of ammonia has given rise to its widespread use in things that are altogether more wholesome and useful, such as fertilisers, and more significantly for our purposes, cleaning products.
It is corrosive though, which, because it's good at dissolving dirt, is why it's so popular as an additive in cleaning products, but for the very same reason, you need to question if you really do want it anywhere near your pen.
What? A tiny amount of liquid ammonia mixed with water is corrosive?
Yes, most definitely. A single application today might not make any appreciably visible difference to the appearance of your pen, although there is a good chance that indeed it might, but do that every 3 or 4 months over a period of a couple of years, or use it in a pen that is already quite fragile, and your beautifully restored vintage writing instrument or your treasured daily writer might not retain quite the same charm.
Here we are today though, a good way through the 21st century. Science has moved on a great deal since the discovery that ammonia is good at cleaning things. There are other products out there that can clean just as well, and in fact better, without detriment to the item that's being cleaned and without detriment to the person who's cleaning it.
And therefore, with the appliance of science, I present Pen Purge.
Pen Purge is a powerful, full strength fountain pen cleaning fluid from Beaufort Ink, that does NOT contain ammonia to damage your pen and make your skin sore, that does NOT contain harmful VOCs to make your eyes water and irritate your lungs, that is water washable, and that DOES clean your fountain pen, thoroughly, effectively, economically, and safely.
You can use Pen Purge with impunity, as frequently as you like, in the knowledge that it's safe for your pen, and safe for you. You can use it between changes of ink colour for instance, you can use it as part of your regular pen maintenance regime (doesn't everybody thoroughly clean their fountain pens every 2 or 3 months?), and you can use it to deep clean the dried up pen that you've just re-discovered at the back of a drawer, which you forgot to empty when you put it there 3 years ago. Or even worse, the pen that your grandfather didn't even think to empty when he put it there thirty years ago!
Pen Purge is available to buy on our website, in both 50ml bottles, and in money saving 250ml bottles.
It's good stuff, it's safe for both you and your pen, so why not give it a try?
https://www.beaufortink.co.uk/writing-accessories/pen-purge-fountain-pen-cleaning-fluid
Pen Purge is a powerful fountain pen cleaning fluid that does not contain ammonia or harmful VOCs. It's safe for your pen, it's safe for you, and is available in 50ml and 250ml bottles
Phil Dart
October 2023
Latest articles. Scroll down for more
✖
Sign up here, and we'll tell you when we add a new article to our blog
Sorry, that was unsuccessful - please try again
Thanks for subscribing to our mailing list