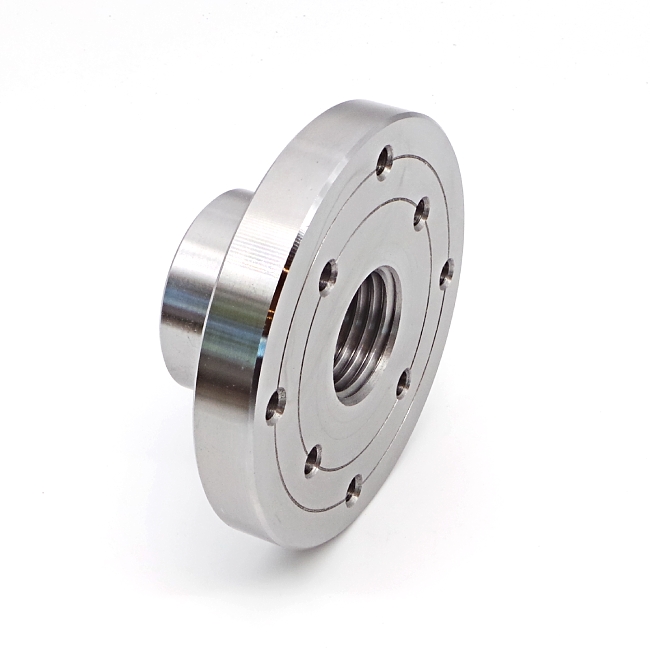 Get 15% off lathe faceplates

Phil - Beaufort Ink -
20 Jun 2023 10:00:00
Other articles...
There are times, if you're a woodturner, when you have a piece of wood that's either too large or too awkward to hold on your lathe using just a scroll chuck. Often the solution is a faceplate, which threads directly onto the lathe's spindle shaft, onto which the wood can be screwed via a multitude of holes in the faceplate.
Yes, I realise that most of you already know that, but what you may not already know is that we make and sell lathe faceplates. They're made for us in the same factory that produces our versatile and popular Versachuck wood lathe chuck.
We have them in 3 different diameters - 150mm, 105mm and 80mm. Each of those is available with a choice of spindle thread sizes - M33x3.5, 1 x 8tpi, ¾ x 16tpi and 1½ x 6tpi dual L/R (to fit Harrison, Poolewood, Apollo etc).
Manufactured to give high performance and excellent value for money, they feature holes laid out on metric radial pitches to ensure that you can always get sufficient screws into the workpiece. The holes are not only countersunk on the headstock side, but also on the work face side to ensure that any "pull-out" caused by the mounting screws will not prevent the workpiece from lying flat and secure against the faceplate.
And this week, you can get 15% off the price of all our faceplates. Use the code FACEPLATE15 in the shopping basket, and 15% will automatically be deducted from the price.
Our faceplates are excellent value for money already, but with an extra 15% off, they are tremendously good value for money - just make sure you use the code before it expires, which is on Sunday 25th June 2023

Check out our lathe faceplates here:
https://www.beaufortink.co.uk/lathe-faceplates/versachuck-woodturning-lathe-faceplates
We have lathe faceplates in 3 different diameters, to fit a multitude of lathes
Latest articles. Scroll down for more
✖
Sign up here, and we'll tell you when we add a new article to our blog
Sorry, that was unsuccessful - please try again
Thanks for subscribing to our mailing list